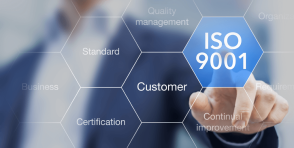 Quality Management Certificate – ISO 9001:2015
ISO 9001 is the world's most widely recognized quality management standard, which helps organizations meet the expectations and needs of it's customers.
As a previously ISO 9001:2008-certified organization, atg airports engaged in a rigorous audit of our business processes and quality procedures. We are now pleased to announce we have successfully completed the transition to the ISO 9001:2015 revision, for its offices located at Warrington, Rugby, and Fort Myers, Florida.
Jonathan Wigman, our QHSE manager commented, that we are extremely proud of our team, in all the different departments, and by their efforts in achieving this level of certification. We continue to demonstrate our ability and desire to effectively and efficiently provide a quality management system, while continuously improving our products and services.