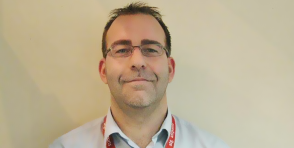 Addition to the atg airports Board of Directors
atg airports are pleased to announce the promotion of long-time, team member, Stephen Williams-White to the position of Engineering Director.
Stephen has been with us as a dedicated engineer and manager for more than 10 years and has helped to build the engineering team over this period. He has a wealth of knowledge in airfield lighting control systems and has actively been involved in the development of Smart Control, and the development of new technologies into the system.
In his new role as Engineering Director, Stephen will oversee the growth of the business unit, focusing on team development and enhancement of customer service. He will also liaise directly with customers, conducting technical presentations and assist in the support of installed and new system requirements.
"We are very pleased to have Stephen join our Board of Directors," said Mal McGuinness, CEO of atg airports Ltd. "I'm excited about the expertise and depth of technology knowledge that Stephen will bring to our board. As atg airports continue to evolve into new global markets, Stephen will be an excellent technical advisor and strongly contribute to our success in this mission."
Please join us in congratulating Stephen on his promotion and wishing great success in this new role.