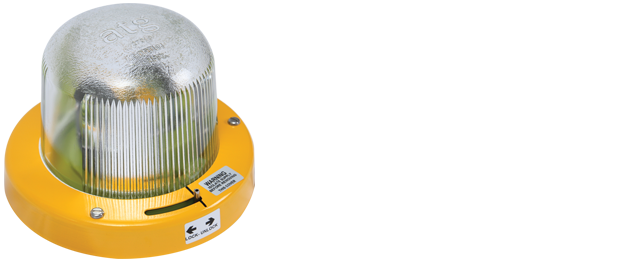 Elevated Runway Edge Light - ZA163 | L-862
Product Description
High intensity, Elevated bi-directional (with omni-directional component), elevated runway edge light for use in all weather operation installations up to ICAO category III systems. Medium intensity, bi/uni-directional elevated threshold/end light.
Compliant to the latest standards
ICAO

– Annex 14, fig A2-9 and A2-10

CAA

– CAP168, fig 6A/9, 6A/10 and Table 6A/1

NATO

– STANAG 3316

BS3224

– Part 4, elevated fittings

FAA

– AC 150/5345-46D L860, L861, L862
Features
The ZA163 runway edge light has a range of features which ensure the most effective operation possible. These include but aren't limited to:
Choice of three mounting stems:

M32 threaded frangible spigot

25mm I/D socket with side cable entry

25mm O/D spigot suitable for an FAA type frangible coupling

Lamp change possible without tools using the 'twist lock' facility

All sub-assemblies are keyed to simplify routine maintenance and ensure correct alignment

Robust corrosion resistant aluminium construction for strength and durability

Silicon rubber gaskets seal the dome against ingress of liquids

IMM available on request
Discover more features for our ZA163 runway edge light in the featured PDF.
Browse our full range of runway lighting here.