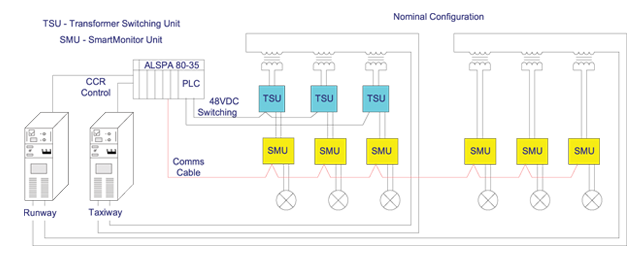 Remote Intelligent Lamp Monitoring Unit
The atg airports SmartMonitor, part of SmartControl, offers true back indication for safe monitoring of runway, taxiway stopbars and lead-ons. Capable of providing adjacent lamp fault detection for ICAO category III systems, it has been designed to be an essential component in Surface Movement Guidance Control Systems (SMGCS) for the full range of airports from regional hubs to major internationals.
The atg airports SmartMonitor is designed to work alongside existing field equipment. It can be combined with conventional circuits to provide individual lamp monitoring. Applicable circuits can be circuit selector switched, have primary field switches (such as the atg airports static switch) or secondary field switches such as the atg airports TSU.
SmartMonitor is particularly suited to applications where switching is unnecessary but integrity is important such as runway edge and centreline and approach circuits.
SmartMonitor Features
Unmatched communications reliability
High communications speed typical stopbar/lead on back indication within 2 seconds (actual 500ms)
Onboard microprocessor is constantly monitored by watchdog to ensure safe operation
CCR circuits can freely accommodate any mix of SmartMonitored and non-SmartMonitored fittings
No special performance requirements for existing isolating transformers
Communications signals have no effect on existing CCRs