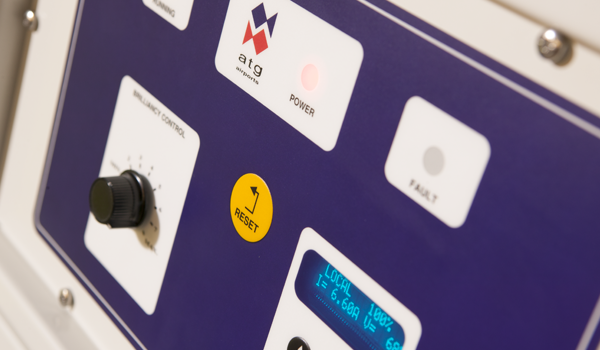 Product Description
The atg airports Micro 100 CCR has been designed with a micro-controller integrated with an analogue control and protection loop, controlling an anti-parallel pair of thyristors to give phase angle control.
Each atg airports Micro 100 (CCR) is a self contained cubicle divided into four main compartments.
"Microcontroller and Display" compartment constitutes a PCB Sub-assembly using a microcontroller to allow parameterisation of the CCR characteristics and display of monitored and alarm information. All of the electronic sub-assemblies in this section are accessible from the front of the CCR cubicle.
The "Analogue Electronic" compartment includes the main control PCB associated with the feedback controller, error amplifier, thyristor triggering circuit, lamp failure detection and earth fault detection. In this section components are accessible from the front of the CCR cubicle.
The "Power" compartment positioned at the rear of the CCR contains all power components connected to the CCR output current loop such as Thyristor Stack, Main Contactor, Main Transformer, Lightning Arrestor, Feedback Transformers, Fuses, Filters and Cable Terminals. The components in this section are accessible from the rear of the CCR cubicle.
The "connection" compartment allows for connection to input terminals and access to fuses without the need to access the power compartment. It is accessible at the rear of the cubicle.
Browse our full range of airfield lighting power solutions here.
Tested to Latest Standards
The Micro 100 Constant Current Regulator is compliant with all international standards, including:
UK CAP 168

FAA AC No: 150/5345-10F

IEC 61822

EN 50081-2 : 1993

EN 6000-6-2 : 1999
Features
The Micro 100 CCR comes with a range of features which ensure an efficient, effective supply of power to airfield ground lighting series circuits. These include:
Pre-programmed with default operating parameters suitable for most applications. Required changes can be made via the front panel. No PC access necessary

Accurate control of RMS output current into all loads from short circuit to full rate output

Output circuit isolated from the mains supply

Compatible with circuit selector and lamp switching equipment
Standard Functions
The Micro 100 CCR comes with all the functions you need for effective operation as standard. Including:
8 fully adjustable Brilliancy levels

Display of true RMS output current

Open circuit protection and fault indication

Over current protection and fault indication

Internal/External brilliancy control

Parameters configurable from the front panel
Optional Functions
The Micro 100 Constant Current Regulator also comes equipped with a range of optional functions, including:
Display of circuit series leakage value

Internal lighting arrestors on the outgoing circuit

Capacitive output current monitoring – ensures correct operation of open circuit protection on highly capacitive AGL series loop circuits

Lamp failure detection – displayed as total number of lamps failed, or as a percentage of total lamps. Accuracy

+

1 lamp for up to 10 faults and

+

3 for up to 30 lamps at all brilliancy steps
And much more. Download the PDF  below for more information on our Micro 100 CCR.