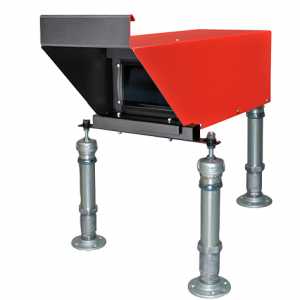 LED PAPI L-880L L-881L
Product Description
Conventional L-880 precision approach path indicator, PAPI, system usually utilise tungsten halogen as the main light source. However, using advanced LED and optical technology the IR880L LED PAPI (Precision Approach Path Indicator) can be used as an alternative to conventional units.  The units are configured to operate in the same manner as the tungsten halogen model, with either four (IR880L) or two units (IR881L) positioned at the side of the runway and adjacent to the glide slope origin. This technological advancement presents benefits not only from low operational running costs, a reduction of the ongoing maintenance costs, but an increase in the reliability.
Standard constant current regulators (CCR) can be used to power the IR880L / IR881L and we would recommend that a sinewave output unit such as the Micro200 be connected to this equipment which would generally be a 5-step CCR (2.8 to 6.6). If required a conventional mains supply can be utilised 100-220V 50/50Hz as a power source. Alternatively, due to the low load requirement, a solar engine can be supplied with a battery charging system, ideal for use at remote airfield with limited or unregulated power source.
Certified to Latest Standards
CASA MOS Part 139
ICAO Annex 14. Vol 1
FAA AC 150/5345-28
FAA Engineering Brief No. 67
IEC 61827
EASA
Stannag 3316 (NATO)