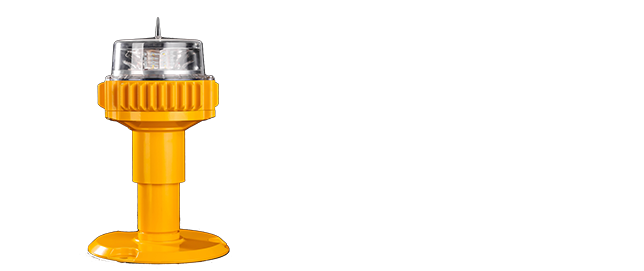 Elevated Runway Edge Light | FX862C & FX862CW - L-862C (L)
Product Description
The FX862C & FX862CW, Elevated runway edge light L-862C(L), is part of a complete range of LED fixtures for runway lighting and taxiway lighting systems. This application is high intensity, Bi-directional, uni-directional, Clear(white), Yellow, Red light source, suitable for CAT II/III operations. An omni directional optical array, Clear(white), can also be incorporated into the fixtures. This help provide lighting for circular guidance where required.
Use of the latest LED technology ensures the optimisation of power consumption is kept to a minimum, therefore the operating temperature is lower, thus improving the life of the LED module which is calculated to be greater than 60,000 hours.
The fixture when installed is adjustable in height from 250 – 350mm which includes the frangible coupling that it is mounted on.
Designed to meet the harsh environment the fixtures will operation in a temperature range of -55 °C to +55°C (-67 °F to +131°F) and has an ingress protection of IP67 (IEC 69598-1)
A standard FAA L823 style 1 connector is used to connect the fixture to the isolating transformer ensuring a water tight connection is made. On certain applications an option for an additional power lead can be requested.
The fixture operates between 2.8 – 6.6 amps which can be powered by either an IGBT type CCR, Ferroresonant or thyristor unit powering the airfield ground lighting (AGL) series circuit. The fixture is fully dimmable and follows the response curve of tungsten halogen lights as detailed in engineering brief 67 outlined in the Advisory Circular (AC) FAA 150/5345-53.
Two options of this product are available to accommodate the different runway widths. The FX862C is suitable for runways that are 45 meters in width and incorporates a 3.5 degrees toe angles while the FX862CW is designed for runways that are 60mts wide with a toe angle of 4.5 degrees.
The fixture is compatible with existing circuits so there is no need to replace the constant current regulators (CCR), the isolating transformers, or field cables. However, we would recommend that the CCR is re tapped to match the circuit load ensureing the benefit of installing the fixtures are attained.
A 'fail open' monitoring facility is available which operates, should the LED array stop working with either an open, or short circuit condition. Use of LED light source eliminates filter replacement and colour shifts when viewed at various angles or at different CCR brilliancy settings.