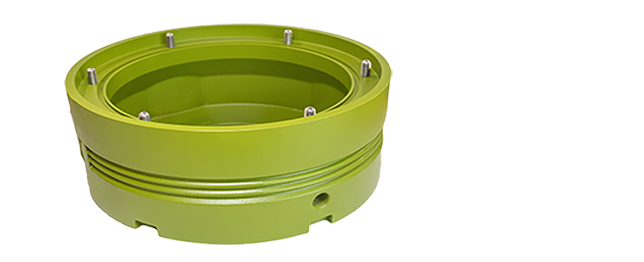 ZM480 base can - 12"
The atg airports 12 inch mounting shallow base consists of an aluminum casting with a hole at the bottom of the base can which is suitable for installation of cables. As an alternative, the  base can, is able to be sealed and equipped with one or two sealed cable entry points to facilitate connections to the light fixture. The aluminium base can is treated with a two-pack acrylic enamel paint which, is a paint system involving an acrylic paint melamine, and a hardener resin. When combined, these two resins result in a chemical reaction producing a hardened solution helping to prevent porosity and water ingress.
The shallow base is designed for installing in situ by means of epoxy-resin secured in a core that has been drilled in the pavement or into a precast concrete block. With the dry base option, a gasket (separately supplied) must be placed between base and fixture for water tightness. All hardware for fixing, screw and washer, are in stainless steel. On request customised version are available.
With this type of shallow base installation, the isolating transformer used to power the fixture, along with the the primary circuit connectors, are typically located in a pit at the edge of the runway or taxiway. The light is powered by means of a secondary cable being installed from the pit to the light base.
There is currently no regulation specifically covering the requirements for these types of shallow bases. However, the base cans are designed in compliance with the mechanical and environmental requirements of IEC 61827 and the FAA AC 150/5345-42 specifications.